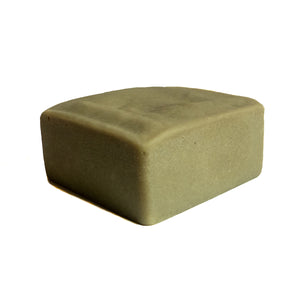 It's super ugly...but incredible!
Our new hair conditioner bar is out and it's just awesome. (Well, not awesome looking, but who cares...) If you've never tried a conditioner bar, they offer a lot of benefits over traditional liquid hair conditioners.
This conditioner includes French Green Clay, which helps treat scalp conditions and is a natural hair untangler. It also includes cocoa butter and fatty acids derived from coconut that help replenish dry hair.
And most importantly, this little 1.5 oz bar is the equivalent of 2 bottles of liquid conditioner, helping you cut back on plastics!
Infused with lavender essential oil, which smells great and is great for hair too.
Ingredients
Made with all-natural, plant-derived ingredients:
BTMS - 50 Conditioning Emulsifier
Deodorized Cocoa Butter
Mango Butter
Stearic Acid
Cetyl Alcohol
DL-Panthenol
Benzyl Alcohol
Dehydroacetic Acid
Lavender Essential Oil
French Green Clay